Our People
MSD gifts back hope and cheer to kids of Kythe Foundation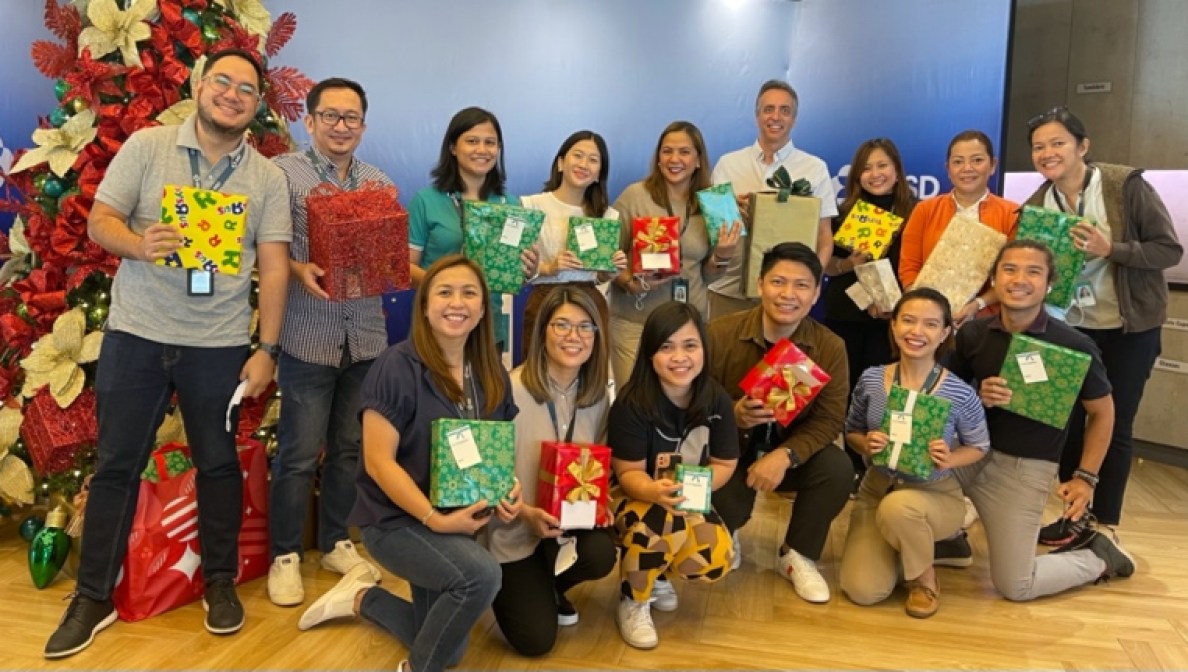 For enterprises of all sizes, giving back is a must. First and foremost, it helps uplift the community they are serving. Secondly, volunteerism can be empowering to the employees themselves, as it allows them to advocate and work for worthy causes, using their time and talent. And for the organization itself, it helps builds trust among stakeholders.
MSD in the Philippines (known as Merck & Co. Inc., Rahway, NJ, USA in the U.S. and Canada) champion volunteerism by encouraging its employees to find ways to give back to the community. Through the global volunteerism and skills share program, MSD Gives Back, employees take an active role to 'pay it forward' through participation in programs offered to promote a healthier society, advance education, foster the arts, address the welfare of animals and preserve the environment.
In 2022, MSD employees in the Philippines reached out to over 200 pediatric cancer patients supported by Kythe Foundation in National Children's Hospital, Philippine Children's Medical Center, and Quirino Memorial Medical Center, through MSD Gifts Back to Kythe. True to the spirit of the season, employees and their families donated, dedicated, wrapped and delivered presents- mostly educational toys- to Kythe kids in the abovementioned centers.
The company has been a long-time supporter of Kythe Foundation, a non-stock, non-profit organization dedicated to the health and well-being of children with chronic illness, such as those with cancer.
"MSD employees in the Philippines, and around the world, are passionate about giving back to their communities. Volunteerism is at the heart of MSD's culture, and giving back is part of our DNA. We are honored to collaborate with Kythe Foundation and support its mission to help address the fears of children who are going through their cancer journey by promoting a culture of care, that allows children to learn, play and grow" said Andreas Riedel, President and Managing Director.
MSD employees are empowered to give back and help build healthier communities by engaging in activities where they can share their skills, time, and resources for the benefit of others. Every year, MSD employees can donate their time and talent to help improve the health and well-being of communities through notable programs such as MSD Gives Back.
"We at MSD aspire to improve access to health by discovering, developing and providing innovative products and services that save and improve lives. But our commitment to the community goes beyond business practices. We believe that supporting society, people and communities around the world is fundamental to our long-term success. As we serve the community where we have presence, we remain true to our purpose, "patients first," Riedel added
In May 2022, Kythe Foundation recognized MSD as a Corporate Volunteer Group of the Year for its continuous support and commitment. The award celebrated the exemplary volunteers from MSD who supported Kythe's mission of improving the quality of life among hospitalized children with cancer and other chronic illnesses.
"There is a saying, it takes a village to raise a child and I say, it takes a village to care and to cure a child patient with cancer. That's what we are in Kythe– we are a village, we are a family.", said the Kythe Co-Founder Maria Fatima Garcia-Lorenzo.
Kythe provides play, engagement, and psychosocial care to children living with cancer. Play is an important part of children's development, as it helps them learn new skills and express themselves in a healthy and productive way. In the context of a cancer journey, play can provide children with a sense of control and normalcy during a difficult and uncertain time. It can also help them cope with the physical and emotional challenges of cancer treatment.
In addition to the benefits of play, psychosocial support can also be crucial for children dealing with cancer. This support can take many forms, including counseling, therapy and support groups. It can help children and their families to better understand and cope with the cancer diagnosis and treatment, and provide a safe space for them to express their emotions and concerns.
Overall, play and psychosocial support can have a significant role in helping children to navigate the challenges of a cancer journey, and can help to improve their overall quality of life during a difficult time.
"Whenever I see volunteers give off their time, skills and effort, I am always grateful and in awe. They could have chosen more leisure or more fun things and yet they choose to volunteer. We are thankful you make this choice. Not everyone will make that choice. Kythe will not be able to serve as many children, have an impact on so many families, nor grow the seeds of change without you who help Kythe live its mission.", said the Kythe Executive Director, Dra. Angie Sievert-Fernandez.
Engaging in volunteer work can be an enriching experience for people. Keeping a dynamic employee engagement policy allows MSD to provide employees with opportunities to make a difference in people's lives, through means of encouraging, empowering children and their families to fight cancer, and letting them know they're not alone in their journey.