Responsibility
MSD gives back to Kythe and Carewell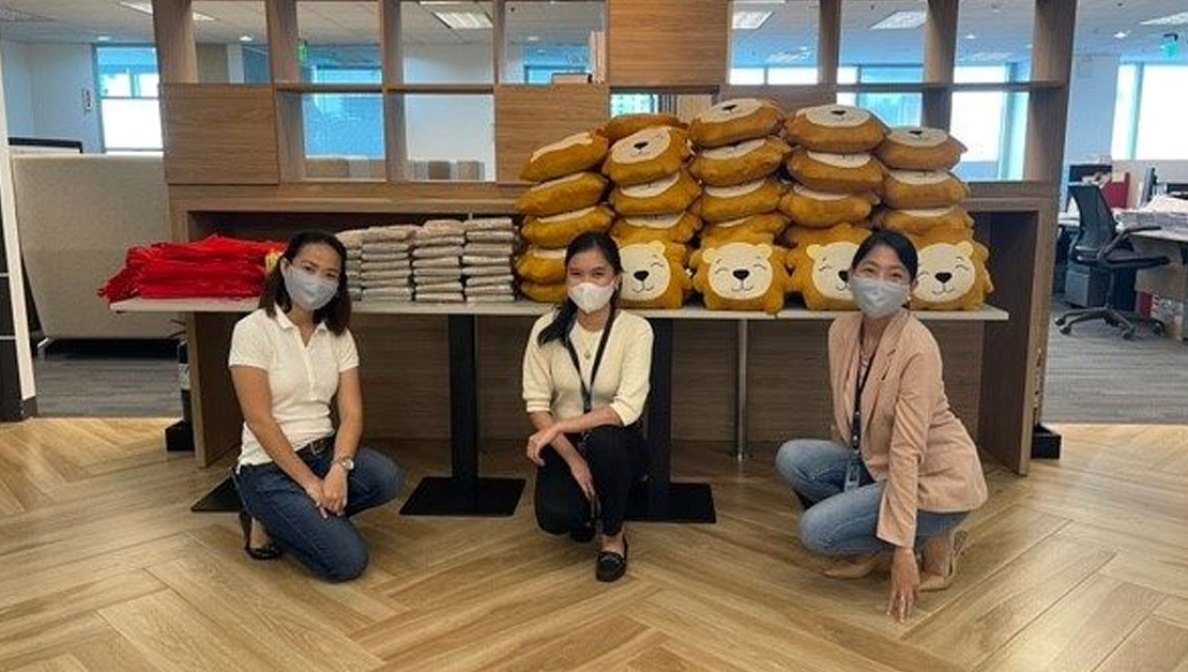 At MSD, employees are encouraged to find ways to give back to the community. Through the global volunteerism and skills share program dubbed MSD Gives Back, employees take an active role in giving back to their communities through participation in a variety of programs offered to promote a healthier society, advance education, foster the arts, address the welfare of animals and preserve the environment.
In the Philippines, MSD employees have engaged in various face-to-face volunteerism activities that improve the health and well-being of communities for more than 25 years. In 2021, amidst the pandemic, the company decided to shift its approach in enabling employees to continue supporting the great work their partner patient advocacy groups are doing through virtual volunteerism.
As a continuation of MSD's 25th anniversary celebration, MSD in the Philippines launched 5×5: MSD Gives Back, a programdesigned to give employees an opportunity to extend their support to patients, caregivers and the broader health care community within a span of 5 months.
MSD employees' virtual volunteerism
The coronavirus pandemic is increasing anxiety and insecurity in many people diagnosed with cancer, as well as their loved ones. In 2021, MSD collaborated with Kythe Foundation, a non-profit organization that provides care to children with cancer, and the Cancer Resource and Wellness (Carewell) Community, a nonprofit foundation that provides support, education, and hope to persons with cancer and their loved ones.
"Amidst the pandemic, we believe patients can benefit from a strong sense of community support, to help them get through the challenges brought by these uncertain times," said Michael Blanch, Corporate Affairs and Market Access Director.
"We are honored to work with Kythe Foundation and Carewell Foundation, two organizations that are dedicated to the health and well-being of patients and carers, throughout their cancer journey."
MSD Gives Back to Kythe
MSD employees collaborated with Kythe Foundation to support its mission of helping address the fears of children who are going through their cancer journey. MSD employees hosted a series of 5 activities over 5 months, focused on reaching pediatric cancer patients across the country.
In July, MSD employees organized an art party for the Philippine Children's Medical Center called "Sining Eskwela" featuring popular TV personality and artist Robert Alejandro for the benefit of pediatric cancer patients.
This was followed by a session for the National Children's Hospital where MSD employees took the Kythe participants around the Philippines on a virtual tour in its "Tara na! Byahe Tayo!" program. Even if they could not go out and travel in-person, the children enjoyed sceneries and tourist spots like Iligan City's Maria Cristina Falls and Bohol's Chocolate Hills through an interactive virtual Lakad. They also participated in trivia games while they demonstrated their creativity through a bag painting activity. MSD employees gave out prizes and awards at the end of the program.
In time for Halloween, the kids of Kythe from Philippine Children's Medical Center were given the opportunity to showcase their most creative costumes for the virtual event "Magical Costume Party". The kids also demonstrated their knowledge of Filipino riddles, talents in music and dance, and skills in arts and craft. There was a virtual storytelling session to engage the kids in creative study and play. Winners of the costume party, virtual talent show and other games received special prizes and awards.
In November, to support Kythe's Play Advocacy Week, MSD employees developed activity kits, "Spark Joy and Empower" for 60 kids in Cebu and Tarlac, which included art sets and stuffed toys to encourage hope and bravery throughout their journeys.
The holidays came early to the kids of Kythe in Philippine Orthopedic Center, Quirino Memorial Medical Center and AFPHealth Service, when the MSD team organized a fun and interactive party entitled, "Tis the Season to be Jolly". During the two-hour virtual program, the kids played games, participated in the storytelling activity, showcased their creativity and talent, and celebrated the joyful season with their ates and kuyas.
Kythe Executive Director Fatima "Girlie" Lorenzo said "We at Kythe believe that children with cancer can better cope with their challenges- especially during the pandemic- when they are surrounded by a caring community. As an organization, we inspire hope to the children and their families. Despite the limitations of COVID-19, we are thankful for MSD's efforts to spend time with our Kythe Kids and prepare gifts for them."
She added that "MSD has demonstrated a long-term commitment to addressing children's fears by providing them with opportunities to learn, play, and grow even virtually."
MSD Gives Back to Carewell
Meanwhile, for the Carewell community, MSD hosted a series of talks that aimed to enable cancer patients and carers to stay healthy and better navigate the new normal brought by the COVID-19 pandemic.
In September, MSD volunteers organized a health and wellness webinar dubbed "Talk to Doc"to support patients and carers from the Carewell Community. The community viewed a video featuring an A to Z guide to health and wellness. This was followed by a live Q&A session where attendees were able to ask questions to physicians regarding cancer-related medication, treatment options and healthcare access.
This was followed in November by the TechTalk webinar, hosted by the Digital Acceleration and Culture and Branding teams of MSD in the Philippines. During the program, volunteers explained the role of telemedicine in helping patients navigate their treatment and care during the pandemic. Participants learned about the different apps that may be useful as they navigate the new normal, while protecting their data privacy and keeping their information secure online.
"There was a lot of health misinformation and disinformation spread over the Internet. It can be a source of anxiety for patients with cancer and their families. Our goal at Carewell is to ensure that cancer patients and their loved ones feel that they are not alone in facing the challenges of the disease. Through our programs, we aim to provide access to factual, accurate information, science-based medical opinions and resources," Carewell Managing Director Oliver Calasanz explained.
"We thank MSD in the Philippines for lending much-valuedexpertise through their skills-share program. . The health, financial and techtalk webinars hosted by MSD proved to be beneficial in helping patients navigate the pandemic." Calasanz said.
'Empowered to give back'
At MSD, employees are empowered to give back and help build healthier communities by engaging in activities where they are able to share their skills, time and resources, for the benefit of others.
"Giving is core to MSD's culture. Our employees' passion, collaboration, and commitment to the communities we serve persist despite challenges of the pandemic. Continuing MSD's more than 25 years of service legacy, it's all-hands-on-deck for the Filipino patient," said MSD's Human Resource Lead, Ms. Marese de Vera.