Our People
MSD in the Philippines harnesses lessons from the pandemic for a more human-centric workplace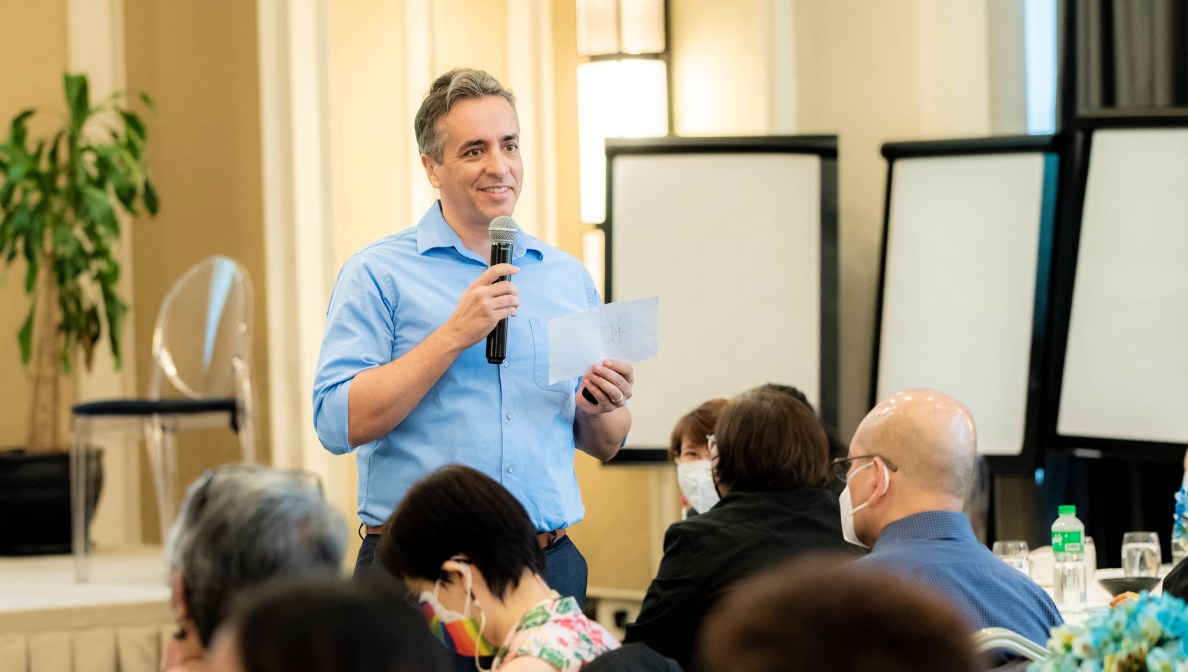 Andreas Riedel, President and Managing Director of MSD in the Philippines, addresses employees as the company launched its new strategic priorities and hybrid work setup.
Over the last two years of the pandemic, the pharmaceutical industry needed to step up in ensuring access to life-saving medicines and vaccines amid unprecedented challenges. For global healthcare leader MSD in the Philippines, navigating across lockdowns and uncertainties meant that it needed to actively listen to the needs of its own people, and respond through innovative workplace practices and initiatives, so its employees may be well-equipped and enabled to continue delivering impactful healthcare solutions to patients and communities.
MSD President and Managing Director Andreas Riedel explains, "By continuing to build MSD as a great place to work, we aim to empower our employees to deliver our purpose of saving and improving the lives of Filipino patients."
At the onset of the lockdowns in 2020, MSD in the Philippines stepped up to support its employees, through innovative workplace programs and initiatives. MSD's HR team worked with MSD's leadership team to organize daily check-ins with the purpose of monitoring both the employees' and their family's health status, set up an employee help hotline, conducted surveys to assess the evolving challenges and needs of its talent, and held weekly virtual townhall meetings to provide information, updates and guidance to the team, to ensure the safety and well- being of the employees, and equip them to continue serving patients, amidst uncertainties.
Dollette Wong, Hospital Acute Care Product Manager shares, "The daily check-ins took getting used to, to be honest. But it truly showed that they were really looking after us. It was a very simple act—communicating with your manager how you and your family are, even on weekends at the height of the pandemic—but it had a good impact on the people. It showed us they really care."
Power of Speaking Up & Being Heard
Wong describes how families incurred unforeseen additional expenses during the height of the pandemic because everyone remained at home. To augment the employees' financial resources, MSD provided daily allowance and increased internet allowance allocation "so even though we're doing our work from home, we were well-compensated and we felt cared for."
Riedel believes that it is important for leadership to listen and respond to employee feedback, as it builds a culture of trust and openness in the organization. "I'm a strong believer in the power of speaking up to drive innovation. Something we like to point out is that in every employee session that we had, we always left enough time and opportunity for colleagues to ask questions so that we could hear them, understand their challenges, and be quicker in adjusting to new scenarios. The information that we got from these was very important and helped us come up with the right initiatives to support our colleagues during this COVID-19 pandemic."
A Culture of Agility
For Haydee Antonio, CVM Senior Professional Healthcare Representative, whose fieldwork entailed almost 100% face-to-face engagement, pivoting to fully digital because of the quarantine situation proved quite challenging. Thankfully, prior to the pandemic, MSD was already strengthening its digital capabilities, which means that the field workers had already obtained consent from doctors to connect with them through electronic mail. "That was a great boost for us going into the pandemic already partially digital. We were almost ready for that."
According to Riedel, MSD takes to heart its responsibility of guiding the organization to lead—and not merely adapt—to ongoing shifts in the healthcare system and the communities it serves. "We are focused and invested on two aspects of agility: the first one is acting with urgency. What this means is that we are reviewing key processes to simplify the way we act and make decisions so we can move faster as an organization. The other aspect is flexibility, really being able to adapt quickly and propel innovation. Our organization encourages our employees to experiment, learn, and adapt because the evolving needs of the patients cannot wait."
Best of Both Worlds
As the government gradually eased pandemic restrictions in the workplace, due largely to the downtrend of COVID-19 cases after the first quarter of 2021, businesses have started welcoming back employees. MSD moved to a hybrid work model with the aim of keeping employees safe, and thus able to continue serving patients well even amid an ongoing pandemic. With the new policy, office-based colleagues have the option to work 2 or 3 days from the office, and the rest of the week from their homes.
The coming to the office with the implementation of strict health protocols following IATF (Inter- Agency Task Force) guidelines.
To ensure that the first week would feel like a special reunion after almost two years of remote work, the organization prepared welcome activities and gave personalized gift packs for employees coming back to the office. "What I can share from that week is that I saw many, many smiles; I felt their excitement of being together and working closely in person again," says Riedel.
The company has been receiving favorable feedback from employees on the new hybrid workplace model. On the days they work from home, they value the time saved from commuting, and the chance to spend it with their families. At the same time, they recognize the importance of being together in the office to collaborate effectively, make faster decisions, and be more agile in delivering innovations that matter to patients.
Wellness and High Performance
Another innovative workplace solution recently implemented is the enhancement of employees' home office. MSD in the Philippines partnered with a leading and global furniture supplier to provide eligible employees with height-adjustable or fixed-height desks and chairs, pre-approved based on high standards of safety and ergonomic quality. The home office furniture provision received favorable feedback, with employees saying it was a demonstration of how the company puts a high value on employees' health and wellness, so they can succeed while working from home.
Evolved Ways of Working
MSD in the Philippines recently refocused its strategic priorities, to help employees deliver the company's value to the patients and other stakeholders. Setting the tone from the top, programs like Listening Circles and Huddles– where different groups of employees get a chance to share their thoughts, challenges, and innovative ideas directly with the President of the company, encourage a culture of openness, personal leadership and innovation. Riedel points out that these specific initiatives are "open to anyone who wants to join, because every employee's unique point of view matters, and contributes to the success of the organization."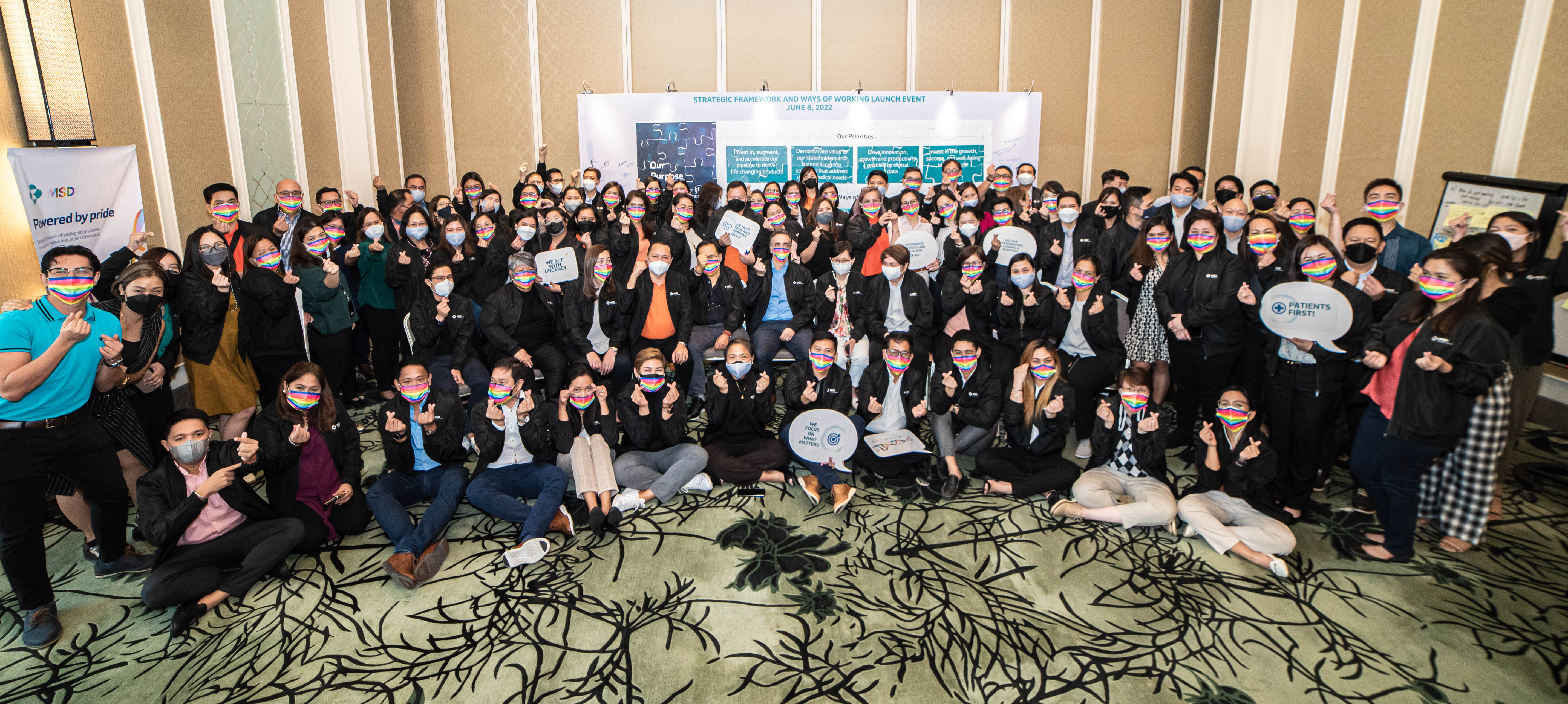 Riedel describes the company's evolved ways of working: "Through this pandemic and beyond, we are focused on unleashing the power of our people through a corporate culture where employees are supported and encouraged to focus on what matters—the patients, our partners and customers in the health care community, and their own professional and personal well-being."
"It's been worthwhile to see our colleagues actively engaged in their own roles, their own growth and welfare even as the world still battles COVID-19," he says. "All of our employee-focused initiatives and workplace innovations aim to help us understand the needs of our own people so we could better collaborate to fulfill our purpose of saving and improving the lives of Filipino patients."