Responsibility
Government and advocates urge senior citizens to get pneumonia vaccination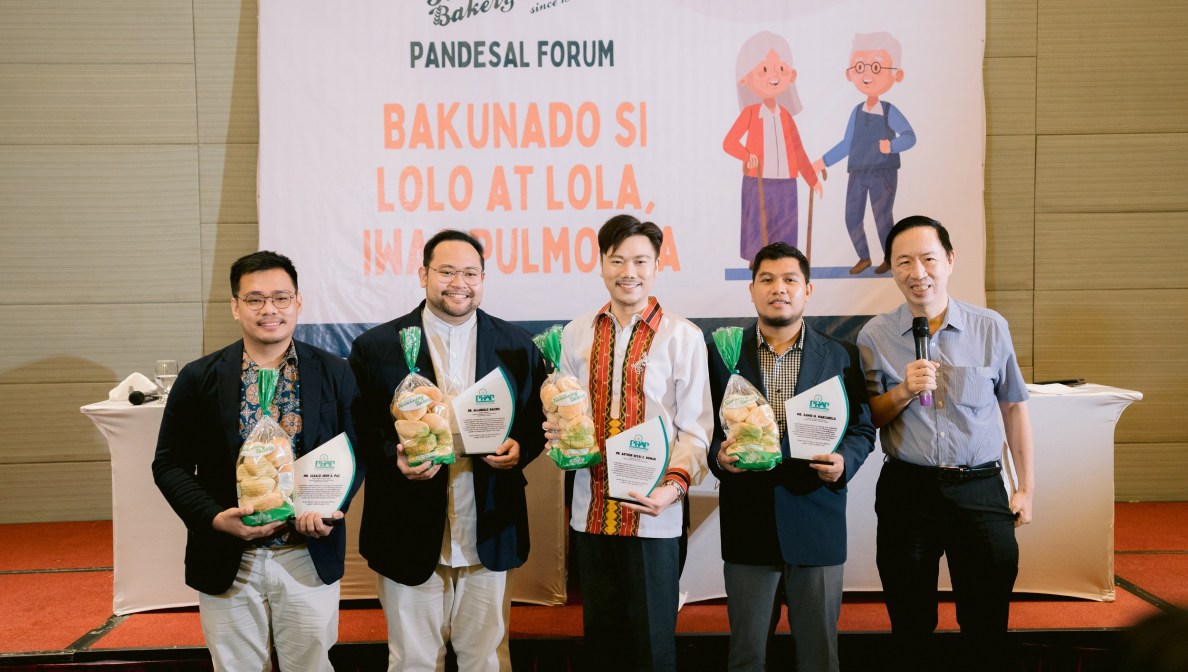 Even before COVID-19 posed a severe health risk among senior citizens, pneumonia has already been affecting the elderly.
In the new normal, pneumonia remains a leading cause of hospitalization and death among the elderly and people living with chronic disease. While the severity of pneumonia can range from mild to life-threatening, it is most severe and fatal for infants and children, adults over 65 years old, immunocompromised individuals, and people living with chronic health problems.
And in spite of the looming threat of COVID-19, pneumonia remained the seventh leading cause of death in the Philippines in 2021.
This is an unfortunate reality, mainly because pneumonia is a vaccine-preventable disease. It threatens Filipino families due to the lack of awareness about the disease, with only a small segment of the population vaccinated against pneumonia.
To address this gap, the national government, the medical community, senior citizen advocates, and the Pharmaceutical and Healthcare Association of the Philippines (PHAP), with the support of healthcare company MSD in the Philippines, are working together to spread awareness about pneumonia and various programs available for Filipinos to help prevent the disease.
Of pneumonia and pandesal
Pneumonia was the hot topic at the latest Pandesal Forum hosted by Wilson Flores titled, "Bakunado si Lolo at Lola, Iwas Pulmonya". A distinguished panel of experts discussed the prevailing challenges around pneumonia and shared insights on strategies to prevent and manage this deadly disease.
The key to averting deaths and complications from pneumonia is better safety and prevention measures, says Dr. Arthur Dessi E. Roman, Medical Specialist III at the Research Institute for Tropical Medicine (RITM). One of the most effective ways to stop pneumonia in its tracks is still through pneumococcal vaccination.
"We have to get over this misconception that vaccines are just an additional expense," Dr. Roman further explains, especially in light of the free vaccination programs of the national government. He added that pneumonia prevention through vaccination will not only prevent the disease itself, but can also prevent hospital and Intensive Care Unit (ICU) admissions. Vaccination safeguards the quality of life of the elderly, added Roman, "It is better not to get the disease at all since even a person survived from pneumonia, we cannot guarantee that they'll go back to their baseline functionality."
"Pneumococcal vaccination is included in the National Immunization Program (NIP) of the DOH," reminds Dr. Allandale Nacino, Medical Officer IV at the Disease Prevention and Control Bureau (DPCB) of the Department of Health (DOH).
"The goal of the DOH with the National Immunization Program (NIP) is to cover the pneumococcal vaccination of Filipinos across different life stages—from children, to adults, to the elderly. As such, there are free pneumonia vaccines for infants and seniors alike," explains Dr. Nacino.
As part of its advocacy to ensure the effective implementation of various programs and services for senior citizens, the National Commission of Senior Citizens (NCSC) joins the national government and the medical community in this campaign to raise awareness about the urgency of pneumonia vaccination, especially among senior citizens.
"Access to quality and affordable healthcare is important. As an organization, we are constantly looking for ways to make the well-being of every senior citizen our topmost priority," says Samir M. Manzanilla, Project Development Officer IV at the NCSC.
Learning from the experiences of the senior citizens whom they serve, especially amid the COVID-19 pandemic, the NCSC is here "to advocate and raise awareness that vaccines are safe and can save lives," adds Manzanilla.
The burden of pneumonia
There are many myths and misconceptions surrounding pneumonia, which get in the way of preventing and treating the disease. Pneumonia is primarily a lung infection caused by various organisms, such as bacteria, viruses, and fungi. As such, you can't get pneumonia simply from overfatigue, sweating, or getting caught in the rain, which are common misconceptions among Filipinos.
When the airways of the lungs get infected, fluids or pus fill up the insides of the alveoli, or the tiny air sacs where the lungs and the blood exchange oxygen and carbon dioxide when we breathe in and out. When the alveoli get clogged up due to infection, oxygen cannot properly enter the lungs, causing a host of difficulties and complications.
Since we need to breathe to survive, any infection that affects the lungs can be life-threatening. This is also why pneumonia remains a leading cause of hospitalization and death, especially among the elderly.
Aside from the personal challenge of living with the disease, pneumonia also burdens national health systems. According to data from the Philippine Health Insurance Corporation (PhilHealth), a total of 737,659 people sought medical assistance and claims due to pneumonia in 2019. This translates to around PHP10.64 billion worth of medical aid and claims given to patients and families living with pneumonia.
Pneumonia prevention through vaccination
Pneumococcal vaccines have been around since the 1980s and studies show that they safe and effective to be administered to infants, children, and older adults alike. Despite widespread availability, pneumococcal vaccination coverage in the Philippines is still at around 20% of the total senior population.
When one is immunized against pneumonia, they may experience lower severity of the lung infection, thereby helping to increase the chances of survival from the disease and reducing the likelihood of hospitalization.
Alongside aging comes the rising need for more robust and proactive healthcare protection. However, the elderly are not the only population vulnerable to pneumonia.
Children who are two years old or younger, individuals with weakened or suppressed immune systems, and people with underlying medical conditions such as diabetes, heart disease, and kidney problem, among others, are also at risk of contracting the severe infection. The good news is that pneumococcal vaccination can be safely administered to these individuals.
For those wary of the side effects of vaccination, pneumococcal vaccines have little to no side effects. In rare instances, side effects may include pain and swelling over the injection area. As vaccines help the body create antibodies to fight off infection, some might experience slight fever and flu-like symptoms after immunization.
Free pneumonia vaccination for senior citizens
Pursuant to the Department of Health (DOH) Memorandum No. 2020-0384, local government units (LGU) and barangay health centers (BHC) are to provide essential health services to senior citizens amid the COVID-19 pandemic. This includes continued immunization against influenza, pneumonia, and COVID-19.
Essential health service delivery included a mix of door-to-door (D2D) visitations and fixed-post (FP) stations at health centers, rural health units (RHU), and barangay health stations (BHS).
As per the DOH, all senior citizens aged 60 years old and above must receive the following vaccines for free: one dose of pneumococcal vaccine throughout their lifetime, and one dose of the flu vaccine every year. To ensure safety, all eligible senior citizens must be assessed and interviewed before their immunization to determine any contraindications.
The national government, through the DOH, is ramping up its immunization programs to help protect the elderly and is encouraging all eligible senior citizens to avail of the free pneumococcal vaccination from their local health centers.
Nacino, appealed to the elderly not to hesitate to visit the nearest health center to inquire about receiving a free pneumococcal jab. "Pwede pong gawin ng ating mga kababayan is pumunta po sa ating mga centers, syempre yung iba malalayo yung mga hospitals so kung ano yung pinakamalapit na health facilities, kung RHU man yan or barangay health stations, they can inquire po the availability of this vaccines." Adult vaccines, such as pneumococcal vaccines and flu shots, are also now made available in local pharmacies and drugstore chains nationwide and can now be administered by pharmacists.
Meanwhile, a senior citizens group represented by Ciriaco Angeles, President of the Provincial Federation of Senior Citizens Association of Cavite, Inc. (PFSCACI) has expressed its gratitude to health leaders for their commitment to protect the elderly. "We would like to thank the DOH and our local government officials for always taking care of us, and for giving importance to public health programs for senior citizens," says
"Pneumonia is no joke, as it remains a leading cause of hospitalization and death among senior citizens. And even if a lot of senior citizens are already online and on social media, many of us still lack vital information about this disease," adds Angeles.
Speaking to his fellow senior citizens, Angeles adds, "Huwag mahihiyang magtanong! (Don't be afraid to ask questions!) Let us strengthen our resolve to learn more about pneumonia and ask our family members, fellow senior citizens, and our local communities about the free pneumonia vaccination in our barangay health centers."